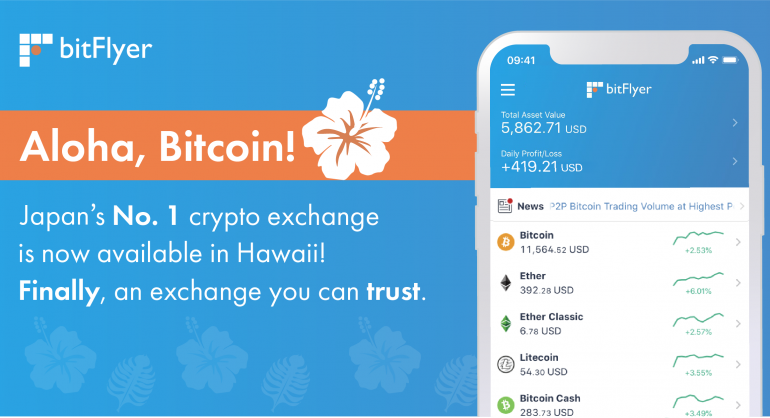 We're very excited to announce that bitFlyer USA is now available to customers residing in Hawaii!

Hawaii residents now have the ability to easily buy and sell bitcoin and other cryptocurrencies with USD through bitFlyer's intuitive Direct Buy/Sell platform on Web, iOS, and Android.

Additionally, bitFlyer Lightning, our professional-grade trading platform, is available for sophisticated traders and institutional investors.

To celebrate, we're giving $25 to new customers residing in Hawaii when they trade over $100 on bitFlyer Direct Buy/Sell! This offer is available until September 30 (See terms here).

Yuzo Kano, CEO / Founder of bitFlyer USA said:
Since many Japanese people live in or travel to Hawaii, it is the state that serves as a bridge between Japan and the US. Offering our service here is very significant as an exchange that originates in Japan. I am very happy to see Hawaii residents using the world's best cryptocurrency exchange."
bitFlyer is now one of the first exchanges to be part of the newly formed Digital Currency Innovation Lab, a partnership formed between the state of Hawaii Department of Financial Institutions and Hawaii Technology Development Corporation. The pilot program is one of the first regulatory sandboxes of its kind and will allow cryptocurrency service providers to do business in Hawaii without obtaining a state money transmitter license for a period of two years.

Len Higashi, acting executive director of HTDC, added
We congratulate bitFlyer on its successful admission into the Digital Currency Innovation Lab. We look forward to its participation to create a more vibrant virtual currency community in Hawaii.

As the only exchange in the world licensed to operate in the US, Japan, and Europe, bitFlyer has been at the forefront of regulatory partnerships since its founding, and is excited to join the State of Hawaii in promoting innovation. The program will create a secure environment for Hawaii residents looking to access cryptocurrencies in a safe way, and will also provide regulators with the right tools and insights to develop thoughtful regulations.

Joel Edgerton, COO of bitFlyer USA said:
We are happy to partner with the state of Hawaii to bring our world class services here. Now Hawaii residents have access to a trusted, licensed exchange to support their Bitcoin and cryptocurrency trading.
Visit https://bitflyer.com/en-us to create your bitFlyer account and start trading today. For any questions about our services, do not hesitate to reach out directly.

Mahalo,
The bitFlyer team
Important Notes:
– $25 worth of credit will be issued in BTC and deposited into your bitFlyer USA account by October 9, 2020
– The BTC value will be determined by bitFlyer USA, Inc. at the time of distribution.
– Only purchases made on Direct Buy/Sell are eligible for this promotion. bitFlyer Lightning volume does not count.
– This offer is valid from 08/19/2020 to 09/30/2020.
– Applicable to verified customers residing in Hawaii only.
– Find more details about our campaign here.
Leave a Reply