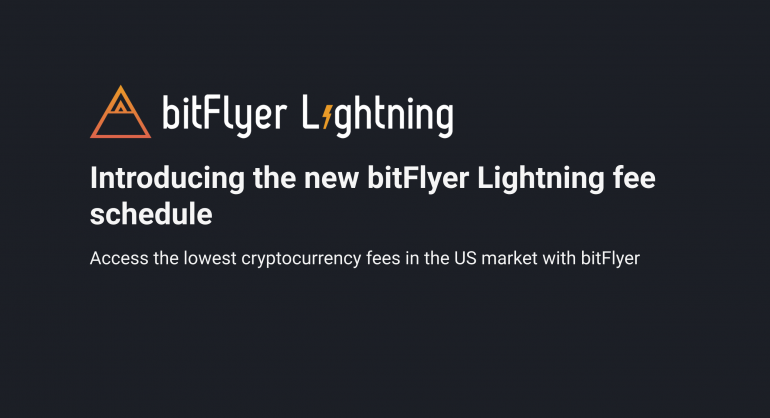 On Wednesday, November 4th at 8:00am PST, we will implement a new fee structure on our bitFlyer Lightning platform.

This new fee structure will enhance bitFlyer's position in the US market as a leading, licensed cryptocurrency exchange, now offering the lowest trading fees in the United States. Additionally, this change will allow us to improve the liquidity and depth of our market, in order to provide a better trading experience for our customers.

Starting November 4th, this will be our fee schedule for bitFlyer Lightning:

We're excited to continue lowering the barriers to entry to start trading cryptocurrency, and continue providing value to our customers.
If you have any questions or would like to learn more about bitFlyer USA, don't hesitate to contact us.
Sign up today to bitFlyer USA to buy and sell cryptocurrencies for the lowest fees in the US.
About bitFlyer Lightning
Built by Wall Street veterans for sophisticated traders and institutional investors, bitFlyer Lightning enables trading of BTC with US dollars through its advanced user interface or via API. Traders residing in any 48 states and territories in the US, can fund their accounts through wire transfers or Silvergate Exchange Network (SEN).
To start trading on bitFlyer Lightning, create a bitFlyer account for free today, complete the verification process, and fund your account. If you're an active trader or an institution looking to learn more about our APIs, visit our documentation and reach out to support if you have any additional questions.
Leave a Reply