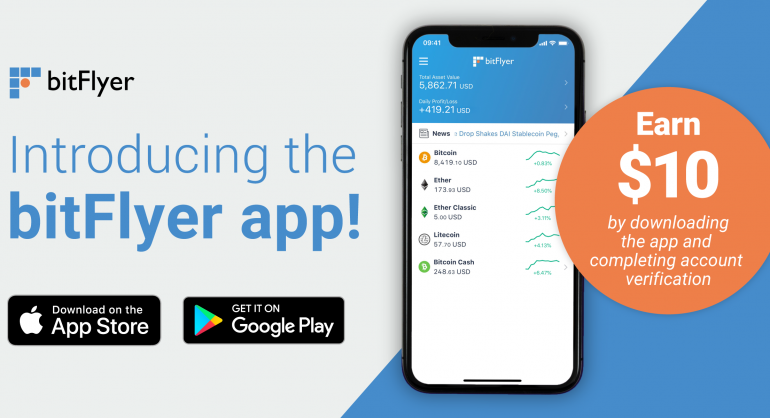 Over the past couple of months, we've focused on launching new products with the sole purpose of providing more value to our users, and making the buying and selling experience accessible to any type of investor.
Today, we're very excited to announce the launch of the bitFlyer app in the US and Europe – the latest step towards our goal of expanding the reach of cryptocurrencies and blockchain technology to the masses.
Some features of the bitFlyer app include:
Buy and sell Bitcoin, Ethereum, Litecoin, and more on the go
Visualize your portfolio and performance
Send, receive, and store your crypto with our secure wallet powered by 2FA, cold wallets, Multisig, and more
Stay on top of the markets by accessing the latest crypto news and price data
Get notified about movements in the market
The bitFlyer app was created with users in mind, making it even easier for those who prefer navigating from a smartphone to buy and sell cryptocurrencies. Current bitFlyer users can log on to the app with their existing account details, while new traders can register by using an email address, and inputting the relevant information for KYC procedures to deposit and begin trading.
To celebrate the launch of the bitFlyer app, we will be giving $10 to every user that downloads the app and completes account verification, and an additional $20 for the first USD deposit over $100. This promotion is valid from 10/21/2019 to 10/27/2019.
Millions of people in Japan are already using the bitFlyer app to access cryptocurrencies. As firm believers of the potential that this revolutionary technology has to transform how we exchange value, we as a company are constantly thinking of ways to expand the ecosystem by introducing easier and better on-ramps for any type of investor. The launch of the bitFlyer app internationally is just the beginning.
In the coming weeks, we will be introducing even more features to improve the experience. Stay tuned.
To get started, download the bitFlyer app on the Apple App Store or the Google Play Store.
---
Important Notes:
– The reward amount will be issued in BTC and the BTC value will be determined by bitFlyer USA, Inc. at the time of distribution.
– This offer is valid from 10/21/2019 to 10/27/2019.
– To unlock the first reward of $10, users must complete valid account verification.
– To unlock the second reward of $20, users have to make a valid USD deposit of at least $100.
– Users must download the bitFlyer app to be eligible for this promotion.
– This offer applies to new and existing bitFlyer users.
Leave a Reply