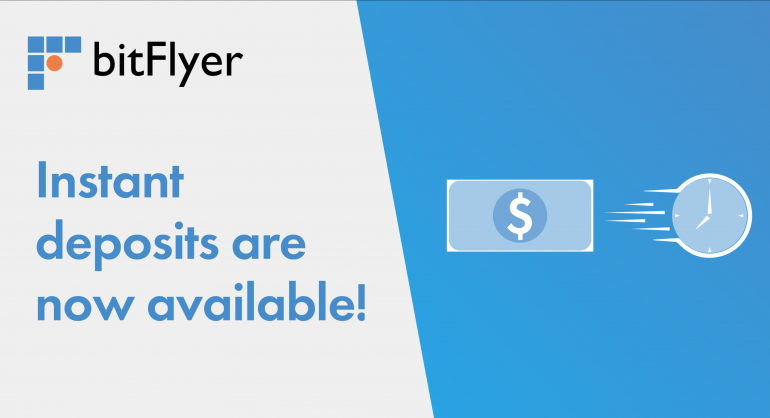 Today, we're excited to announce that Instant Deposits are now available for all customers on our platform. Instant Deposits offer customers immediate access to any funds deposited into their account from a connected bank account, eliminating deposit wait times and enabling immediate trading.

Previously, customers faced a waiting period of 3-5 business days before deposited funds became available on the platform; now, customers will see deposited funds instantly credited to their accounts at no additional fee.
Joel Edgerton, COO of bitFlyer USA, added:
"We at bitFlyer USA continue to listen to our customers and deliver what they want. Instant Deposit helps resolve the delays caused by using traditional banking, and allow our customers to take advantage of immediate opportunities to trade cryptocurrencies in a fast-paced market."

Customers can deposit up to $1,000 a week through Instant Deposits and withdraw funds once the initial deposit has cleared. The update will be reflected on bitFlyer's desktop and mobile apps, available for both iOS and Android operating systems.

To celebrate the launch of Instant Deposits and in anticipation of the Bitcoin Halving, we will be rewarding new customers who make an Instant Deposit and trade over $100. This promotion will remain valid until May 20. For more details of the campaign, find the FAQ here.

The launch of Instant Deposits follow several recent additions to the platform, all aimed at giving traders greater control and flexibility over their transactions, such as our Affiliate program and the Direct Buy/Sell feature.
For any questions about our services, do not hesitate to reach out directly.


Leave a Reply